How to configure MAG device
First of all retrieve your device MAC Address and send it to us for activation.
Step 1: When the box is being loaded the main portal screen appears. After that click on "settings", press remote button "SETUP/SET"
Step 2: Then press on "System settings" and click on "Servers".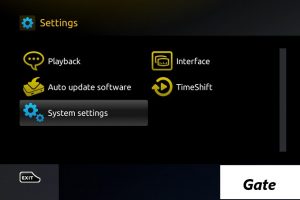 Step 3: Select "Portals".
Step 4: In the "Portal 1 name" line enter the following " Gate ".
In the "Portal 1 URL" enter the portal address provided by your distributor.
Press "OK" to save the changes you made.
When all the steps listed above are done press"EXIT" 2 times on the remote control and restart the portal.
Now everything is ready to start watching TV…